Boston, MA Security Guard Services
Nationwide Investigations & Security, Inc.
Looking for a reliable security guard company in Boston?
Consider Nationwide Investigations & Security, Inc. for service.
Nationwide Investigations & Security, Inc. is a flexible and affordable security services firm in Boston, MA which provides numerous security-related services which include security officer duties, foot patrols, and periodic roving patrol services.
We've been in business since 1999, so we know a thing or two about providing excellent security guard services for our clients. We're well aware of the importance of integrity in character and service as a component of an overall safety structure that can be relied upon.
Our clients include small businesses, homeowners, office towers, property owners, retail establishments, industrial sites, hospitals, schools & some government facilities, special event coordinators, sports and entertainment venues. If professional security guards are required, you can count on Nationwide Investigations & Security, Inc.
Our security officers are highly trained and experienced.
Multiple service options are available.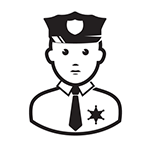 Security officers on our staff are available for short-term, long-term, and permanent posts. We provide concierge services for officer towers, periodic floor-by-floor foot patrols, and employee escorts for dark or isolated parking lots/garages if needed. Our goal is to keep your customers, employees, and clients safe while they're on your property and to serve as an immediate defense mechanism for your interests.
We provide both armed and unarmed security officers who may be suited, uniformed, or in plain clothes based on the specific nature of the project.
For theft prevention details in retail and corporate establishments, plainclothes unarmed operatives are ideal.
For a visible deterrent, it's best to request armed, uniformed guards.
If you need to hire security guards in Boston for immediate service, don't hesitate to contact our experienced management team today. We're usually ready to provide security guard services on short-notice and in emergencies such as broken glass incidents at store-fronts and other instances where immediate security oversight is required. For more information, call us at 617-401-0040.
Boston, MA Security Officers
Overview of Security Guard Services
We're Partners with Local Law Enforcement Agencies
Uniformed, Suited, and Plain Clothes Officers
Armed and Unarmed Guards Available.
Active-Shooter & Gun-Free Zone Defense Options
Concierge and Reception Desk Operatives
Security Kiosk Officers for Monitoring CCTV Systems
Fire Watch Detail Guard Officers Available
Patrols for Small, Large, & Geographically Separate Buildings
Special Event & Crowd Control Security
Retail Theft & Property Vandalism Defense, Home-Sitting
Have questions about our security guard services? Need to hire security officers in Boston, MA on short notice? Don't hesitate to make contact with our management team by calling Nationwide Investigations & Security, Inc. today. Our phone number is 617-401-0040 and our phones are answered 24 hours per day, seven days per week.
Reach Out To Us
Nationwide Investigations & Security, Inc.,
71 Commercial St. Unit 421 Boston, MA 02109
Phone: 617-401-0040
Email: support@ntwinvestigations.com
Nationwide Investigations & Security, Inc. provides security guard services throughout the Boston metro area. Whether we are needed in Boston, Westford, Framingham, Brockton, Marshfield, Rockport, Gloucester, Salem, Waltham, Brookline or elsewhere in New England, our team will be there. For more information or to obtain a service quote, call us today at 617-401-0040.
We provide security & patrol services nationally.
If service is needed in an area that isn't listed on our website, we may have the ability to provide service. Call us at 1-800-294-6042 for more information regarding our presence in any specific region.