Miami Security Guard Services
Nationwide Investigations & Security, Inc.
Security Guard Services in Miami
Armed, unarmed, and uniformed security officers.
If you're looking for professional, trained security guards to provide security officer services for residential or commercial interests in Miami, Nationwide Investigations & Security, Inc. is ready to help by developing a situation-specific security scheme to meet your needs.
Our security officers are well-trained, professionally groomed, and dedicated to providing our clients with the best experience possible with regard to working with an outside team.
We've earned a stellar reputation among our partners in South Florida for being detailed, on-time, and cordial with our clients, their staff, and visitors. If you need to discuss options for the deployment of trained security professionals on your premise, we're ready to work with you on forming an excellent partnership that's predicated on meeting your security needs.
We're A Flexible Miami Security Services Firm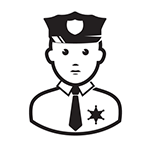 Nationwide Investigations & Security, Inc. is a leading security guard company in Miami. We staff highly trained armed and unarmed, uniformed security professionals. We're able to work with temporary, short and long-term agreements and can deploy on short notice if the situation demands it.
Our security officers have experience providing security for retail establishments, industrial parks, warehouses, private parties, concerts, office buildings, and highrises.
Our operatives have worked with schools, concert venues, corporations, building management companies, residential living complexes, and have provided on-going security for parking garages at risk of theft, violence, and vandalism. If you need to implement a security scheme that utilized entry access control, technological & human assets, we're ready to help you.
To contact our management team, call Nationwide Investigations & Security, Inc. at any time of the day or night. Our phone number is 786-574-3826.
Miami Security Guards
Armed, Unarmed, Uniformed
Anti-Active Shooter Operatives for Schools
Security for Residential Complexes
Anti-Theft Trained Retail Security Officers
Concierge for Large Facilities and Office Buildings
Fireguard Watch Services for Buildings & Work Sites
Tactically Trained Bodyguards Available
Security for Large Parking Garages & Lots
Property & Vandalism Deterrence and Defense
Temporary, Long Term, and Short Notice Service
Security Staff for Crowd Control & Special Events
Support for Hospitals & Government Facilities
Need to retain seasoned security guard officers in Miami? Nationwide Investigations & Security, Inc. is prepared to deploy the professionals you'll need to protect your people and property. To contact our management team with service requests or questions, call us at 786-574-3826.
Available 24 hours a day, 7 days a week
Nationwide Investigations & Security, Inc.,
11455 SW 40th St #164 Miami, FL 33165
Phone: 786-574-3826
Email: support@ntwinvestigations.com
Nationwide Investigations & Security, Inc. is proud to be considered one of the best security guard companies in Miami, FL. If our services are needed in Kendall, Homestead, Hialeah, Weston, The Keys, or elsewhere in Miami or south Florida, call our management team today at 786-574-3826.
We provide contract security & patrol services nationally.
If service is needed in an area that isn't listed on our website, we may have the ability to provide service. Call us at 1-800-294-6042 for more information regarding our presence in any specific region.