Dallas Security Guard Services
Security Guard Services Overview
Dallas Security Officers
Armed, unarmed, and licensed security guards.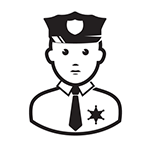 Nationwide Investigations & Security, Inc. is dedicated to providing the best security options for businesses, families, and individuals throughout the Dallas-Forth Worth region. We only staff the best-qualified security officers with verifiable backgrounds. Our employees display integrity, professionalism, and poise when on duty for our clients. Security guards on our staff in Dallas are always well-groomed, on-time, and ready to fulfill their role as the first line of defense for our clients and public safety.
In Dallas, our security officers serve in numerous roles for lots of different types of establishments and security needs. Whether we're asked to provide office building security, security for a special event, or residential security for an individual or a community, we're qualified and ready to provide the security services needed. Our security guard staff are licensed by the state of Texas and are trained to work closely with law enforcement.
With visible security officers on site the chances for crime, vandalism, and improper conduct are significantly reduced, and if an incident does happen, is brought to an immediate conclusion. Our security guard services are available on a contractual or non-contractual basis, and we're also able to operate on short notice and with short-term and long-term contracts. If you have questions or would like to hire security guards in Dallas, call us at 469-434-3580.
Overview of Security Guard Services
Security for Apartment Complexes
Services for Hospitals
Guards for Public and Private Schools
Tactical Anti-Active Shooter Services
Periodic Property Patrols
Retail and Shopping Center Security
Warehouse and Inventory Security
Security for Parking Lots & Parking Garages
Office Buildings & Office Parks
Armed & Unarmed Security Guards
Equipment and Construction Site Security
Looking for more information about hiring armed or unarmed security guard services in DFW? Don't hesitate to reach out to Nationwide Investigations & Security, Inc. by calling our office directly at 469-434-3580.
Reach Out To Us
Nationwide Investigations & Security, Inc.,
Dallas, TX
Phone: 469-434-3580
Email: support@ntwinvestigations.com
Nationwide Investigations & Security, Inc. provides security guard services throughout the entire Dallas-Fort Worth region. Whether services are needed in Dallas, Fort Worth, Arlington, Garland, Farmers Branch, Irving, Grapevine, or Grand Prairie, our team will be there. For more info, call 469-434-3580.
We provide security guard services nationally.