Security Guard Services in Austin
Protect your property & your people.
Need to hire a Security Officer in Austin?
Contact Nationwide Investigations & Security, Inc.
Nationwide Investigations & Security, Inc. provides security services with professionalism, discretion, and is considered by our clients to be one of the best and most reliable security firms in Austin & Central Texas.
With large numbers of security operations downtown and music festivals in Austin under our belts, we've earned a strong reputation as a go-to security guard company in Austin. If you're looking for options to monitor your property and guests while providing immediate security response conditions and an augmentation to local law enforcement's public safety and crime prevention efforts, call Nationwide Investigations & Security Inc. at 512-910-7631.
Trained Guards. Professional Response.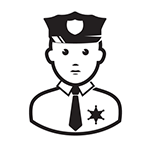 We provide trained and armed security officers in Austin in addition to traditional, uniformed, unarmed security guards. Our guards are also capable of carrying out fire-watch and fireguard duties and securing large events. If you own or operate a small retail establishment or need to guarantee security for a large event like a concert or convention, we're ready to service the matter.
We also have guards that have multiple years of experience providing office building security, periodic patrols and security checks, camera system monitoring, late-night parking lot escorts, and "hot work" construction sites.
If you need to talk with one of our experienced security agents about developing a comprehensive security package customized for your needs, let us know. We're also ready to mobilize if you need short-notice, emergency security guard services. The phone number to call our office is 512-910-7631.
Austin Security Guard Service Overview
Security for Wooded Areas & Farmland
Office Tower Patrols & Access Security Guards
Parking Garage & Parking Lot Security Officers
Concert, Music Festival, and Special Event Security
Construction Site & Industrial Equipment Defense
Redirect & Address Stalkers & Deter Criminal Activity
Fire prevention & Detection
Austin VIP & Bodyguard Services are Available
Office Park, Warehouse, and Inventory Defense
Anti-School Shooter Security & Active-Shooter Defense
Armed & Unarmed Security Guards
If you need to hire a security officer in Austin, TX immediately, Nationwide Investigations & Security, Inc. is ready to respond. Call us at 512-910-7631 to get started. Free service quotes available.
Nationwide Investigations & Security, Inc.
417 E 6th St, Austin, TX 78701
Phone: 512-910-7631
Email: support@ntwinvestigations.com
Nationwide Investigations & Security, Inc. provides security guard and patrol services to the Austin & Central Texas region. If services are needed in Dripping Springs, Round Rock, Georgetown, Cedar Park, Kyle, Elgin, Bastrop, San Marcos or any nearby areas, you call on us. To reach us, call 512-910-7631.
We provide contract security & patrol services nationally.
If service is needed in an area that isn't listed on our website, we may have the ability to provide service. Call us at 1-800-294-6042 for more information regarding our presence in any specific region.