San Diego Security Guard Services
Nationwide Investigations & Security, Inc.
Security Guard Services in San Diego, CA
We provide armed & unarmed security guards.
There's no clearer sign of the need for professional security solutions than when a business owner experiences theft, vandalism, violence, or threats of violence in the workplace. Nationwide Investigations & Security, Inc. has extensive experience helping our clients to prevent such incidents and to reintroduce a sense of safety and security in the aftermath of such events.
Since 1999 we've worked to earn the respect of our clients and have solidified our place as a premier provider of security and defense services through San Diego and Southern California. If you're changing security guard companies in San Diego, contact Nationwide Investigations & Security, Inc. today.
We're one of the highest rated security guard companies in San Diego!
Experienced, Professional Security Guards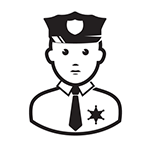 Whether you're a homeowner, business owner, manager of a residential complex, have needs spanning large geographic areas, or manage multiple companies, we're one of the most respected security guard companies in San Diego, CA. Our clients include movie studios, retail establishments, local municipalities, industry, living complexes, office towers, and more.
Due to our experienced working with multiple companies of different types, our security enforcement agents can be uniformed, in plain clothes, suited, armed and unarmed. We also provide tactical services including bodyguard and dignitary protection services.
Should you have questions about our company, services, or clients, we invite you to make contact with our team of experienced security industry veterans. Our phone number is 619-430-4299 and we can be reached 24 hours per day, 7 days per week, and on holidays. Short notice and emergency services are available.
San Diego, CA Security Guard Services
Retail Theft Prevention
Security Camera Monitors
Parking Lot & Garage Security
Nightclub & Restaurant Security
Security Guards for Movie Sets & Studios
Security Patrols for Properties & Wooded Areas
Armed & Unarmed Guard Services
Foot & Vehicle Patrols
Support for Geographically Separate Locations
Bodyguard & VIP Protection Services
24 Hour & Emergency Services Available
Need to hire security guards in San Diego, CA? Nationwide Investigations & Security, Inc. is prepared to respond to the security needs of our clients in and around San Diego, CA. For more information or to get started, call us at 619-430-4299.
We would love to answer your questions!
Nationwide Investigations & Security, Inc.,
200 Harbor Drive, San Diego, CA 92101
Phone: 619-430-4299
Email: support@ntwinvestigations.com
Nationwide Investigations & Security, Inc. provides security services throughout the San Diego, CA region. Whether security services are needed in San Diego, Chula Vista, La Mesa, El Cajon, Escondido, or elsewhere in the San Diego region, don't hesitate to contact us for service at 619-430-4299.
We provide contract security & patrol services nationally.
If service is needed in an area that isn't listed on our website, we may have the ability to provide service. Call us at 1-800-294-6042 for more information regarding our presence in any specific region.