Nashville, TN Security Guard Services
Nationwide Investigations & Security, Inc.
Security Guards for Business & Residential Complexes
About our security guard services.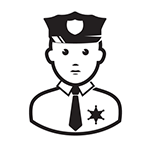 At Nationwide Investigations & Security, Inc. we specialize in providing security solutions for both private individuals and bustling companies throughout the Nashville, Tennessee region. We provide both armed and unarmed security guards who will be suited, in uniform, or in plain clothes (depending on client demands).
Our security officers are highly experienced. We've provided security coverage for birthday parties, political conventions, special events, concerts, residential living complexes, office buildings, industrial facilities, and construction sites.
We also provide theft-defense services for construction companies that need to protect equipment, new and used vehicle dealerships, places of worship, schools, and we also train our armed security guards in best practices for active-shooter response scenarios. Regardless of the reason or the threat which demands a security presence, you can rely on Nationwide Investigations & Security, Inc. to keep you, your property, and your people safe.
Getting to Know Us 
Nationwide Investigations & Security, Inc. has been in operation as an incorporated entity since 1999 with some history prior to our incorporation. Our agency is led by industry leading security experts who bring over 50 years of combined experience in the security & defense sector to bear for our clients. If you're serious about putting your security concerns to rest, we are among the best security guard companies in Nashville to consider for your security response needs.
To contact Nationwide Investigations & Security, Inc. with inquiries related to your security needs or to schedule security guard services, contact us 24 hours per day, 7days per week at 615-724-9996.
Nashville, TN Security Officers
Learn more about our services.
Security Guard Services Overview
Roving Property Patrols
Point-of-Sale & Retail Theft Prevention
Active Shooter Defense
Security Services for Churches, Synagogues, and Mosques
Security Guards for Office Buildings & Industrial Sites
Security for Construction Sites & Equipment
Ask about Fire Watch Guards & Bodyguard Services
Long & Short-Term Service Contracts
Armed & Unarmed Security Officers
Uniformed & Plain Clothes Guards
Trained for Special Events, Concerts, & Perimeter Controls
Video Overview of Our Company
If you're interested in obtaining a service quote or more information about our security guard services and patrol options in Nashville, TN, contact Nationwide Investigations & Security, Inc. immediately. The phone number to reach our staff at any time of the day or night is 615-724-9996.
Contact Our Team
We look forward to hearing from you!
Reach Out To Us
Nationwide Investigations & Security, Inc.,
718 Thompson Lane #108, Nashville, TN 37204
Phone: 615-724-9996
Email: support@ntwinvestigations.com
If you need to hire security guard officers in Nashville, Franklin, Pasquo, Ashland City, Ridgetop, Gladeville, Peytonsville, Brentwood, Kingston Springs, or elsewhere in the Nashville, TN general region, don't hesitate to reach out to our management team at any time of the day or night. Our direct phone number is 615-724-9996.

We provide security guard services nationally.