Detroit, MI Security Guard Services

Nationwide Investigations & Security, Inc.
Need To Hire Security Guards in Detroit?
Contact Nationwide Investigations & Security, Inc. today.
Security guard companies in Detroit are plentiful, but very few provide their clients with the professionalism and attentiveness to duty to match that of the security guard staff of Nationwide Investigations & Security, Inc. Our firm is respected as a top security guard company in Detroit, and we're intent on maintaining that reputation.
When our clients contact us for service, they have a well-deserved expectation of the timely arrival and professional appearance of the guard-staff in addition to the highest expectations of the service they'll receive.
Security Personnel Are A Worthy Investment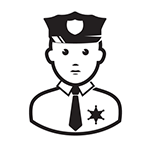 Security officers pay for themselves with their presence alone. If a potential vandal or criminal intends on taking some form of aggressive illegal action, they'll be immediately deterred and think twice the moment they catch wind of the presence of security guards. Nationwide Investigations & Security, Inc. staffs both armed and unarmed security officers and provides services to all types of establishments.
We've provided security for retail establishments, construction & equipment storage sites, office buildings, concerts & special events, schools, office parks, parking garages and we also train our armed staff in active-shooter prevention and neutralization.
If you have questions about our security guard services in Detroit, or if you need to schedule services immediately, reach out to Nationwide Investigations & Security, Inc. as soon as possible. Call us at 313-349-1035. Our phones are answers day and night, 7 days per week.
Armed & Unarmed Officers Available
Security for Healthcare Facilities
Employee Termination Security
Residential & Commercial Services
Special Event, Concert, Convention Security
Armed & Unarmed Officers Available
Temporary & Long Term Contracts Available
Office & Apartment Building Security
Periodic Vehicle & Foot Patrol Services
Emergency & Short Notice Service Available
Fire Watch Guards & Fire Prevention
Tactically Trained Bodyguards are Available
Nationwide Investigations & Security, Inc.,
18701 Grand River Suite 213, Detroit, MI 48223
Phone: 313-349-1035
Email: support@ntwinvestigations.com
Whether security guard services are needed in Detroit or in the nearby towns of Lansing, Warren, Ann Arbor, Dearborn, Canton, Pontiac, Flint, Toledo, OH and all areas in between, don't hesitate to call us. To reach Nationwide Investigations & Security, Inc. call our office at 313-349-1035.

We provide contract security & patrol services nationally.
If service is needed in an area that isn't listed on our website, we may have the ability to provide service. Call us at 1-800-294-6042 for more information regarding our presence in any specific region.