Houston Security Guard Services
Nationwide Investigations & Security, Inc.
We Staff Professional Security Guards
Both armed and unarmed security officers are available.
If you need to hire security guards in Houston on a temporary or long-term basis, consider reaching out to Nationwide Investigations & Security, Inc. to obtain a non-obligatory service quote today. We provide outstanding, punctual, and highly effective security patrol services to individuals and multiple companies throughout southeast Texas.
We provide both armed and unarmed security guards and we have the ability to deploy operatives on short notice. Our security officers are available 24 hours per day and for emergency situations. Our clients have the option of uniformed or plainclothes security officers and guards with extensive retail theft prevention training are also available.
For specific matters requiring extensive talent, tactically trained bodyguards are also available to our clients in Houston and throughout the United States.
The People We Serve
An Overview of Our Clients & Experience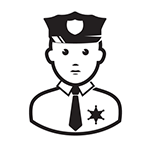 Security guards on our staff in Houston have a wealth of experience providing security services in numerous types of situational environments. We've provided security officers for schools, colleges, private events, special events, sporting venues, nightclubs, bars, parking lots, parking garages, office buildings, laboratories, hospitals, and private property for private individuals.
Our clients include small businesses, corporations, a few of the municipalities in Greater Houston and more. Regardless of the environment or skill level of the personnel demanded by our clients, we're almost always able to satisfy the demands of our clients and meet their service needs.
Nationwide Investigations & Security, Inc. is available to take calls to answer any questions you may have at any time of the day or night. We're one of the few security guard companies in Houston that's ready to provide 24-hour service. We have agents available all across our great nation for support outside of Houston. If you need a Houston security guard on short notice for an emergency detail, contact us. To reach our main office, call 713-587-9600.
Security Services Overview
Get familiar with our service offering.
Retail Security Guards and Personnel
Holiday Security
Emergency Security
Loss Prevention (due to theft, fire, or vandalism)
Alarm, Access Systems and Monitoring
Control Emergency Situations
Protect Personal Security
Control Access to Premises (Authorized Dealer)
Deter Crime via Visual Onsite Security Guard Presence
Crowd Control Management
Peace of mind while you are away.
Nationwide Investigations & Security, Inc is available around the clock. If you're an existing client in need of security guard & patrol services in Houston, TX or have questions about our company and service offering, you're encouraged to contact our management team by phone at 713-587-9600 or by sending us a message using the contact form below.
We look forward to hearing from you!
We're One of Houston's Most Respected Security Guard Companies!
Nationwide Investigations & Security, Inc.,
2425 West Loop South #300, Houston, TX 77027
Phone: 713-587-9600
Email: support@ntwinvestigations.com
Nationwide Investigations & Security, Inc. provides affordable and professional security guard services to home owners and companies throughout the Greater Houston area. Whether our security guard services are needed in Sugar Land, Galveston, Conroe, Downtown Houston, Baytown, Katy, Brazoria, or any area in-between, we'll be there.
Also worth noting, we're one of the few professional security guard companies in Houston, TX to offer emergency patrols on short notice. If you need more information, call us at 713-587-9600.
We provide contract security & patrol services nationally.
If service is needed in an area that isn't listed on our website, we may have the ability to provide service. Call us at 1-800-294-6042 for more information regarding our presence in any specific region.