Houston Security Guard Services
Nationwide Investigations & Security, Inc.
We Staff Professional Security Guards
Both armed and unarmed security officers are available.
If you need to hire security guards in Houston on a temporary or long-term basis, consider reaching out to Nationwide Investigations & Security, Inc. to obtain a non-obligatory service quote today. We provide outstanding, punctual, and highly effective security patrol services to our clients throughout southeast Texas.
We provide both armed and unarmed security guards and we have the ability to deploy operatives on short notice. Security services are available 24 hours per day and for emergency situations. Our clients have the option of uniformed or plainclothes security officers and guards with extensive retail theft prevention training are also available.
For specific matters requiring extensive talent, tactically trained bodyguards are also available to our clients in Houston and throughout the United States.
The People We Serve
A General Overview of Our Clients & Experience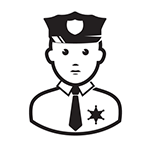 Security guards on our staff have a wealth of experience providing security services in numerous types of situational environments. We've provided security services for schools, colleges, private events, special events, sporting venues, nightclubs, bars, parking lots, parking garages, office buildings, laboratories, hospitals, and private property for private individuals.
Our clients include small business, corporations, some municipalities and more. Regardless of the environment or the skill level of the personnel demand by our clients, we're almost always able to satisfy the demands of our clients based on their service needs.
Nationwide Investigations & Security, Inc. is available to take calls and any questions you may have at any time of the day or night. We provide 24-hour service and have agents available all across our great nation. To reach our main office, call us at 713-297-8830.
Security Services Overview
Get familiar with our service offering.
Security Guard Services
Retail Security Guards and Personnel
Holiday Security
Emergency Security
Loss Prevention (due to theft, fire, or vandalism)
Alarm, Access Systems and Monitoring
Control Emergency Situations
Protect Personal Security
Control Access to Premises (Authorized Dealer)
Deter Crime via Visual Onsite Security Guard Presence
Crowd Control Management
Peace of mind while you are away.
When you're hiring security guards in Houston, TX, you may find yourself in a dilemma on whether to employ armed or unarmed guards. Armed guards legally carry firearms, and the law allows them to use deadly force if necessary. Armed guards typically undergo training for defensive use of firearms and receive licenses for the same. On the other hand, unarmed guards don't carry or use guns in their line of duty. They can, however, use other non-lethal weapons such as batons, tasers and capsicum sprays.
It may appear evident that armed guards will provide better security than their unarmed counterparts. However, this thought is misleading. There are factors that you have to consider to ensure you hire the right kind of security guard for your situation. The choice demands deeper and broader consultation with our security executives and your business's stakeholders. Below are some aspects of security that you should factor in when deciding whether to hire armed or unarmed security guards in Houston, TX.
Account for Police Response Times
The ease and speed at which one can access police in Houston, TX will determine whether or not you should hire an armed or an unarmed security guard. If police will be delayed in responding to an emergency at your address, then you should undoubtedly consider hiring an armed security guard.
Dangerous and violent events can unfold within a short period. Consequently, hiring an armed guard may be the ideal measure for time-critical situations. However, if police officers can be deployed to your site within a short time, you may not need to hire armed security guards. Unarmed security guards with communication equipment may be the best solution.
If you hire two or more unarmed security guards, make sure they have an easy means to communicate with each other. Efficient communication capabilities will allow your security team to call for backup support during an emergency. With backup, the security team should be able to manage any situation until the police arrive.
Develop a Security Budget
Before deciding on hiring guards, establish a budget. See what your business is able and willing to invest in security. Armed security officers are more costly than unarmed guards. The high-cost of armed agents are attributed to the licensing, insurance and intensive training requirements. Many armed security guards in Houston have a background in law enforcement or served in our nation's military.
Consider the Operational Environment
With the setting in mind, consider that unarmed guards appear less threatening compared to armed security guards. You'll find unarmed guards suitable for public areas with lots of people. Areas such as parks, museums, shopping malls, or sites where many people congregate are often more relaxed with the presence of unarmed security guards. Unarmed guards wear uniforms and are up to the task of deterring the criminal element and addressing disturbances.
Armed security guards provide peace of mind to business owners. They know their merchandise and property are safe and protected. However, armed guards can create tension among some people due to the impression that the workplace or environment isn't safe and consequently the security must carry lethal weapons to provide protection. To counter this problem, let the armed guards fulfill their security roles behind the scenes while maintaining the visibility of the unarmed guards. A multi-faceted security approach is always the best method of ensuring security and will keep expenses manageable.
Armed Guards May Impact Their Environment
Armed security guards carry deadly weapons. Aside from incidents involving active shooters, you wouldn't want a guard to open fire in a large public crowd. Armed security officers are suitable for private businesses and private settings and are appropriate for businesses engaged in enterprises involving precious items, VIPs, and large sums of cash.
With the epidemic of active shooter incidents, Nationwide Investigations & Security, Inc.'s armed security officers are often contracted to protect soft targets like gun-free zones and areas where large groups of defenseless children and people are expected to gather.
For more information about active-shooter defense solutions, please don't wait to contact us. We're here for you.
Security Guards for Valuable Property
If you are hiring guards to protect goods worth a high value like expensive jewelry and art, then armed guards are ideal. The presence of armed guards can discourage theft attempts and other crimes. If an armed person attempts to steal or vandalize precious items, an armed security guard can neutralize the effort.
Consider the Potential for Violence
Some environments are more prone to violence than others — for example, business establishments located in high-crime areas. Businesses such as nightclubs and bars also carry a high risk of violence due to the nature of the crowds. For these types of businesses, armed security officers may be required. In fact, it's not uncommon for armed security guards to save lives in Houston.
Armed security officers are also vital for the safety of hospital emergency rooms. Some healthcare facilities frequently treat individuals who are involved in criminal activities such as gang fights and other confrontations. Unfortunately, it's not rare for these types of feuds to find their way into emergency rooms.
We Help to Mitigate Liability Concerns
Nationwide Investigations & Security, Inc. is committed to training & retraining our officers on a regular basis because we know that the law may hold property owners liable for the actions of security guards under their employ. In most cases, unarmed security guards are just as effective as their armed counterparts. Unarmed security guards are equipped with non-lethal weapons to deter crime and violence. These non-lethal weapons include batons, Tasers and pepper spray. The weapons are effective but not deadly.
Both armed and unarmed guards who work with Nationwide Investigations & Security, Inc. possess all the necessary licensing and training to meet the minimum requirements for armed guards in Houston, TX. Most of the guards on our team are former military or police officers. They know what they're doing and have extensive training and experience in the careful use of lethal weapons.
If you have questions related to the best way to address any security needs your business may have or would like to schedule patrol services or get a quote, call Nationwide Investigations & Security, Inc. at any time. We're here to keep our clients and the general public safe.
For more information about any of our services in the Houston, TX general region, please email us or call (713) 297-8830.
Contact Us
We look forward to hearing from you!
Reach Out To Us
Nationwide Investigations & Security, Inc.,
2425 West Loop South #200, Houston, TX 77027
Phone: 713-297-8830
Email: support@ntwinvestigations.com
We serve the entirety of the Greater Houston area including Sugar Land, Galveston, Conroe, Downtown Houston, Baytown, Katy, Brazoria, and all areas in-between. If you need security services in southeast Texas, contact us.
We provide contract security & patrol services nationally.
If service is needed in an area that isn't listed on our website, we may have the ability to provide service. Call us at 1-800-294-6042 for more information regarding our presence in any specific region.