Phoenix Security Guard Services
Nationwide Investigations & Security, Inc.
Phoenix Security Guard Services
Armed, unarmed, and uniformed security officers.
Professional and reliable security guards services in Phoenix, AZ are only a phone call away. Nationwide Investigations & Security, Inc. provides highly trained, armed and unarmed security officers for our clients. When a security guard patrol is needed at a premise where it previously was not, it's because there's something there worth protecting and our agents are trained to understand this as opposed to merely clocking hours at a "job."
Our agents understand the importance of their duties;
to protect people,
assets,
and to compliment the public safety efforts of state sanctioned law enforcement officers.
Some of our clients only need a temporary solution while others need a long-term solution. Regardless of the specific need for a security guard, we'll make sure the concern is addressed.
We're a Full-Service Security Guard Company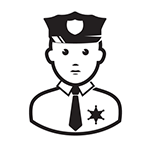 Nationwide Investigations & Security, Inc.'s security guard team is dynamic and trained to fulfill numerous roles and environment-specific demands. Our agents are ready to serve as doormen, traditional security guards, armed & uniformed security guards, Phoenix fire watch guards, bodyguards, office building patrols, special event security, parking lot and parking garage security, and are trained for industrial settings.
No matter the situation that created the need for dedicated security, we're ready to partner with you to execute a solution.
Our security team is among the best trained in the nation and we understand the importance of the services we provide to our clients. If you need to discuss any form of security concern in the Phoenix, AZ region, or if you or your organization is ready to hire a security guard, call us at 480-376-7200.
Phoenix Security Officers
Overview of Security Guard Services
Security for Retail Establishments
Crowd Control Staff
Defense Against Property Damage and Vandalism
Armed Security Guards are Available
Uniformed or Suited Guards Available
Roving Property Patrols
Emergency & 24 Hour Service Available
Concert and Large Event Security
Construction Site & Equipment Security
Protect Assets, Staff, and Customers
Deter Criminal Activity
If you're looking for more information about our security guard services in Phoenix, or if you need a quick quote or are ready to hire a security guard, call Nationwide Investigations & Security, Inc. at 480-376-7200 to get started.
Contact & Location Information
Nationwide Investigations & Security, Inc.,
530 E McDowell Rd #107-408, Phoenix, AZ 85004
Phone: 480-376-7200
Email: support@ntwinvestigations.com
Nationwide Investigations & Security, Inc. serves the Metro Phoenix region. If we're needed in Scottsdale, Mesa, Casa Blanca, New River, Gilbert, or Glendale, we'll be there. If you're ready to hire a security guard or have questions about our services or our company, call us at 480-376-7200.
We provide security & patrol services nationally.
If service is needed in an area that isn't listed on our website, we may have the ability to provide service. Call us at 1-800-294-6042 for more information regarding our presence in any specific region.